Welcome to Felicity, California
A Town Dedicated to Remembrance
This Land Has Promise
Welcome to Felicity, a town established by law on March 11, 1986 by the Imperial County Board of Supervisors (Book 258, file 220.18, page 234), and home to the History of Humanity in Granite.
Encompassing over 8,000 acres of desert near the California-Arizona state line, Felicity increased when Imperial County later added over 5,000 acres to Jacques-André Istel's original 2900. This stretch of land had caught his eye in the 1950s and, without having much inkling of what lay ahead, he decided to do something worthwhile with it later in life.
Jacques and his wife, Felicia, returned to the desert in the 1980s. What began as a "Town Dedicated to Remembrance" evolved into an internationally-significant destination – not only for history and art educators and enthusiasts, but also for curious folks of all ages.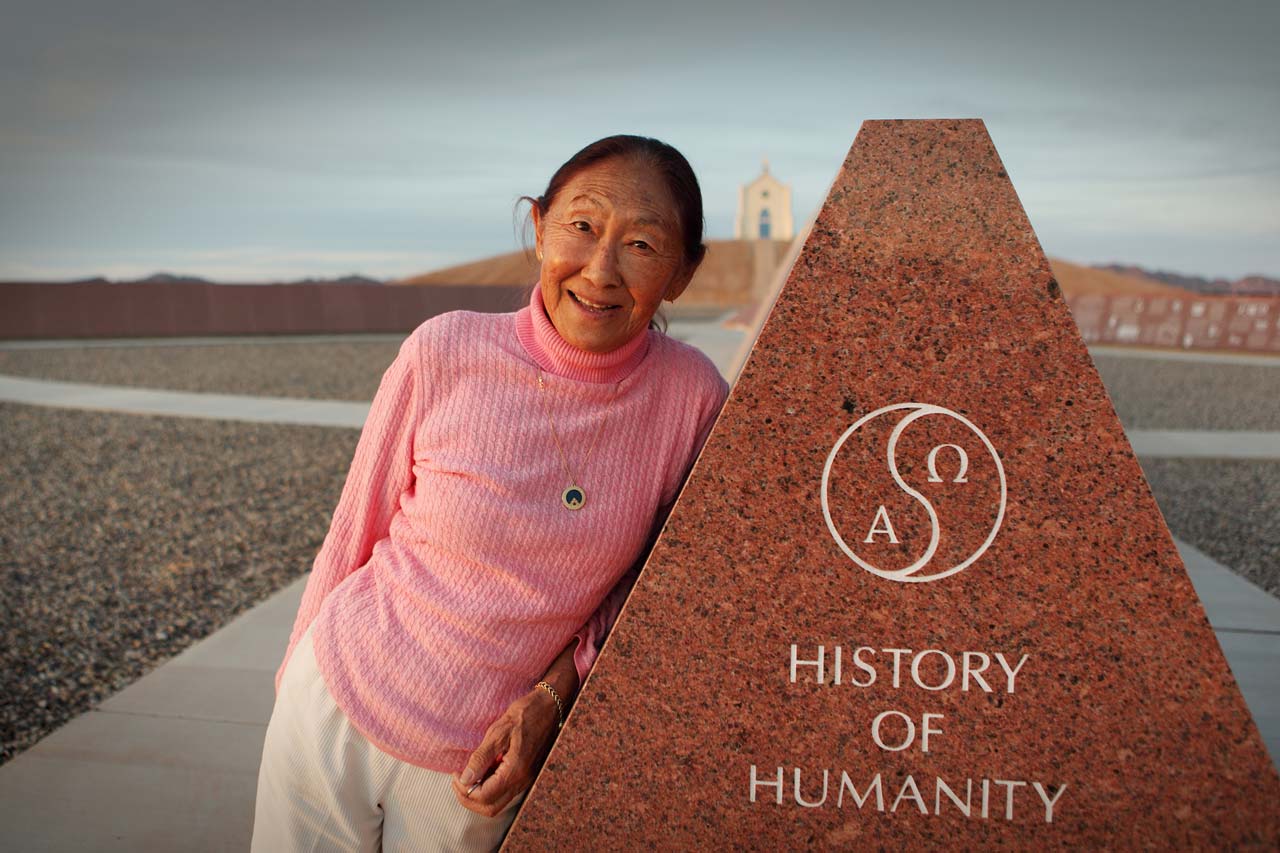 What's In A Name?
The Town of Felicity is named for Jacques's wife, Felicia Lee. Felicia was assigned by Sports Illustrated to interview Jacques, who was then President of the forthcoming 1962 World Parachuting Championships – and Jacques "interviewed her back seriously." She later flew with him in a small plane, crossing war zones while circumnavigating the globe. Their life has not lacked adventure.
After a quarter-century career that revolutionized industries in parachuting and sport, Jacques sold his companies, moved with Felicia to the desert, and established a town in her name. As stated by Gustave Flaubert: "To keep a woman, one must cherish, protect and amuse her." Jacques believes "amuse" may be the most important.
Fifty years into their union, they are not yet bored. Jacques says, "I have the kind of wife who, if I said, 'We're going to the planet Mars, she'd say, 'What do I pack?'"
A fitting name for the town, "Felicity" means happiness. Much has been bestowed upon Jacques and Felicia. In return, they leave their creation to the world.
"From grateful immigrants, to our nation and to humanity."
A Sense of Tradition
Upon the 1986 installation of a telephone landline in Felicity, Mayor Jacques made the very first call to the White House. A polite but baffled operator took the report of the birth of the Town of Felicity in California – President Ronald Reagan's home state!
Tradition, and admittedly emotion, required embedding in the foundation of the first building Jacques's 1973 wedding toast to Felicia:
To trial past,
To empathy,
To a halt in uncertainty, 
To the one, my last Felicity,
Salute in immortality.
A Significant Location
Located near Yuma, AZ  halfway between Phoenix and San Diego, the Town of Felicity and the Museum of History in Granite are today a top tourist attraction in Southwest USA, a must-stop destination while on Interstate-8.
The inaugural mail-by-mule route ("jackass mail") ran through here; gold and land were plentiful here, bringing people and industry. And, as it turns out, this "barren" landscape is not barren at all. There is an aquifer here: one of the three best in North America.
In 1962, Jacques read Rachel Carson's "Silent Spring" and, concerned about the aquifer, he limited farming to a small fraction of the property. The water quality in Felicity is among the best in the Southwest. Tested monthly, no chlorine or other treatment is required in the Felicity public water supply.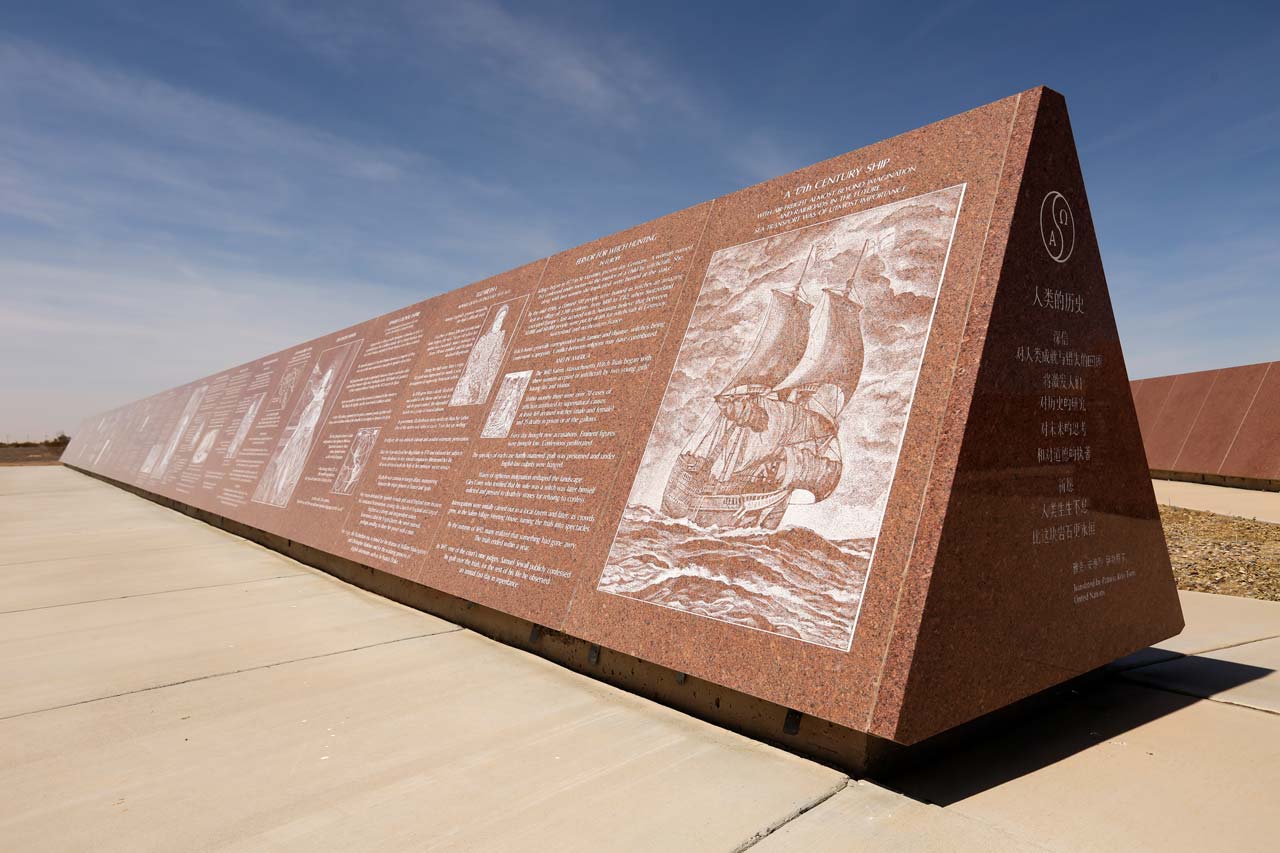 For the Ages
Each granite monument in Felicity is designed to last for millennia. Even so, some not mathematically inclined remind Jacques about the impending encroachment of the Imperial Sand Dunes, (17,000 years at the fastest rate). California's notorious earthquakes are another matter. Neither scenario gives him pause. "If buried, think how happy future archeologists will be."
The town's distinctive architecture as well as the monuments yet to be realized are in the hands of the Felicity Historical Society. The Society actively imposes deed restrictions to ensure continued quality.
The State of California accepted and met all specifications of the Felicity Historical Society in order to build the California Highway Patrol building. The attractive structure was nominated for an architectural prize.